Powerful, highly detailed maps for your next VFR trip. Optimized for VR!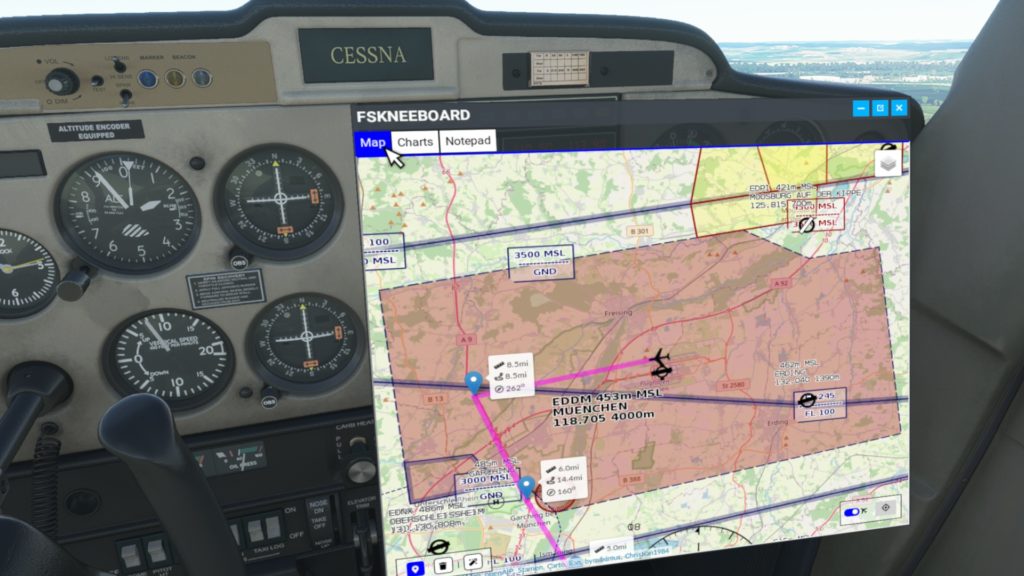 How Waypoints And Tracks Work
"Waypoints and Tracks" is a feature that was highly requested by the community. It enables you to manually add waypoints to the map and modify them by simply dragging them around.
Flags on each waypoint will show you the distance between this waypoint and the previous waypoint, the course to that waypoint as well as the total distance from your position to that waypoint (if you have your own A/C visibility turned on).
By clicking on the connection line between two waypoints, FSKneeboard will insert a new waypoint in between the two that you can then drag around and modify.
For the future, I would like to investigate how the ingame flightplan could be pulled from MSFS through Simconnect and then display that as well…
What to Click?
Here's a quick overview of the module and what you can do with it.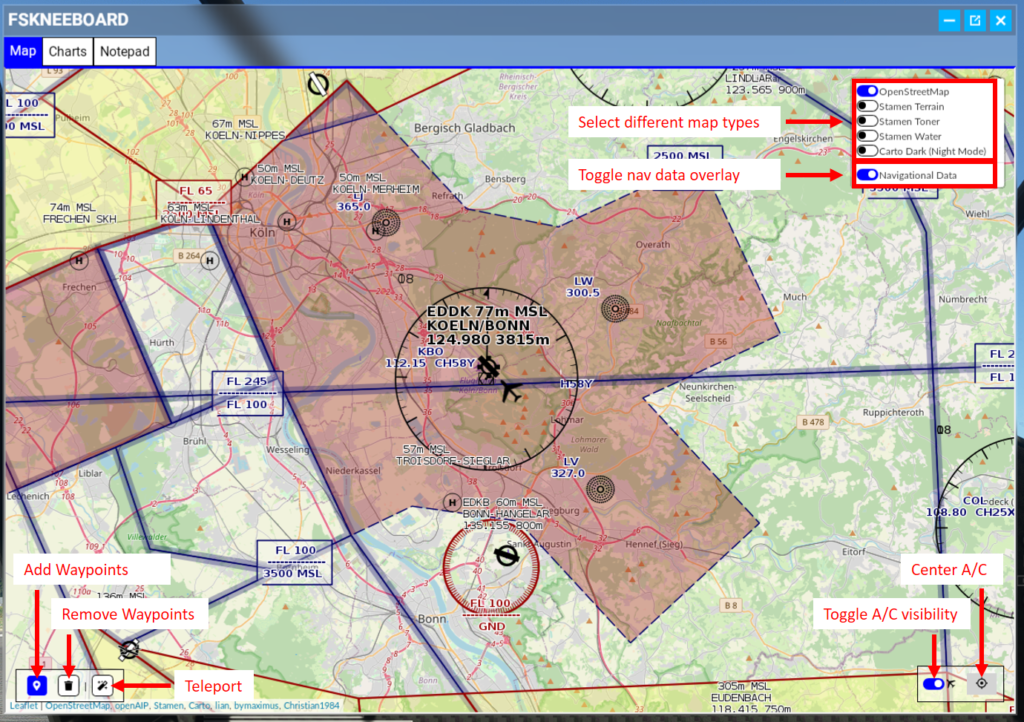 Features in Comparison
Free
PRO
Highly detailed maps for VFR flying
✅
Yes
✅
Yes
Map resolution and UI optimized for VR
✅
Yes
✅
Yes
"Moving Map" (i.e. map follows your airplane position in real time)
✅
Yes
✅
Yes
Hide airplane for full "paper map navigation" experience
✅
Yes
✅
Yes
Teleport to any position on the planet with a click of a button
✅
Yes
✅
Yes
Night mode (Maps)
✅
Yes
✅
Yes
Waypoints
❌
No
✅
Yes
Track data (like total distance, per-waypoint-distance and course to next waypoint etc.)
❌
No
✅
Yes
Charts Viewer for approach charts, checklists, notes etc.
❌
No
✅
Yes
Notepad for taking notes in-VR without peeking under your headset
❌
No
✅
Yes
Configurable Autosave function to recover your flights, for example after a system crash
❌
No
✅
Yes
YOU actively support the ongoing development of FSKneeboard, bringing Flight Simming in VR to the next level 🙂
😎
Sure! Thanks for giving the mod a shot 🙂 Spread the word!
💚
YEAH! You rock!!!
TRY FREE
BUY NOW