Powerful, highly detailed maps for your next VFR trip. Optimized for VR!

How Waypoints And Tracks Work
"Waypoints and Tracks" is a feature that was highly requested by the community. It enables you to manually add waypoints to the map and modify them by simply dragging them around.
Flags on each waypoint will show you the distance between this waypoint and the previous waypoint, the course to that waypoint as well as the total distance from your position to that waypoint (if you have your own A/C visibility turned on).
By clicking on the connection line between two waypoints, FSKneeboard will insert a new waypoint in between the two that you can then drag around and modify.
As a PRO user you can even pull the currently loaded ingame-flightplan from their Flight Simulator onto the kneeboard with a click if a button, which will then load the flightplan you have created on the Worldmap screen before starting the flight.
What to Click?
Here's a quick overview of the module and what you can do with it.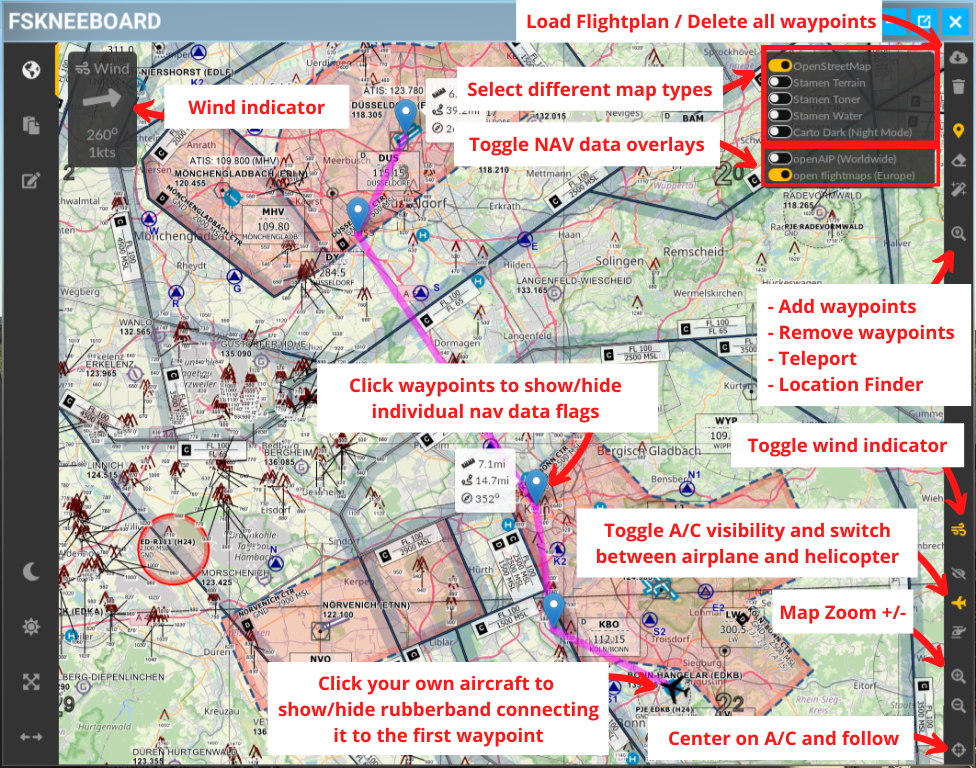 Looking for Locations to Fly to?
With the all new location finder, which can be accessed via the search icon on the toolbar, you can type in ANY street address or POI via the onboard keyboard and find it on the map. You can then select to just pan the map there, add a waypoint at this location or teleport there.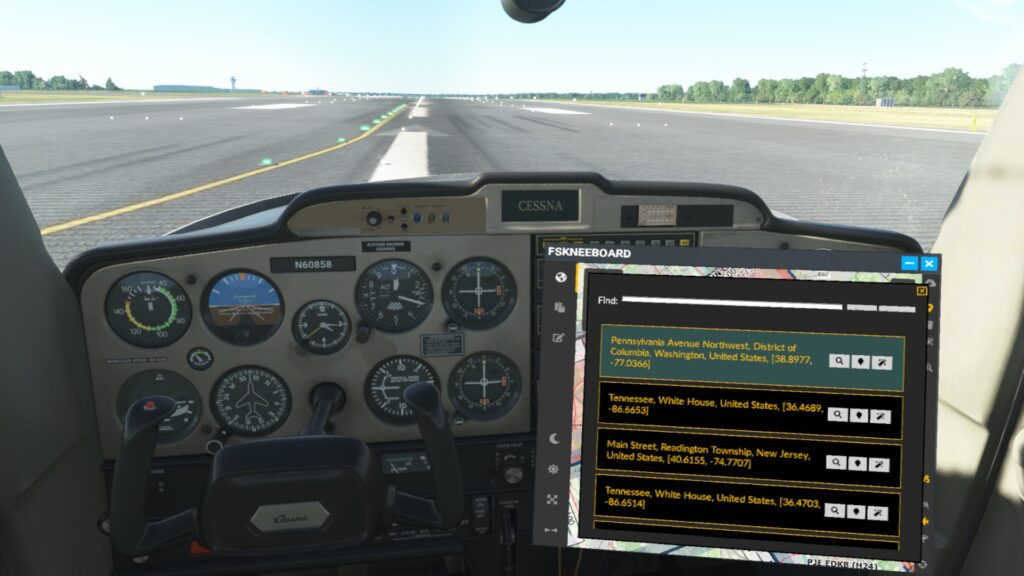 What Else?
Depending on your personal preference and various external factors (like your 2D screen resolution, your MSFS window size, your supersampling settings) chances are the map inside your FSKneeboard panel may appear too small or to large, or in some cases even stretched in a weird way. In that case you may use FSKneeboard's dynamic resolution controls to adjust the panel's resolution to your personal preference.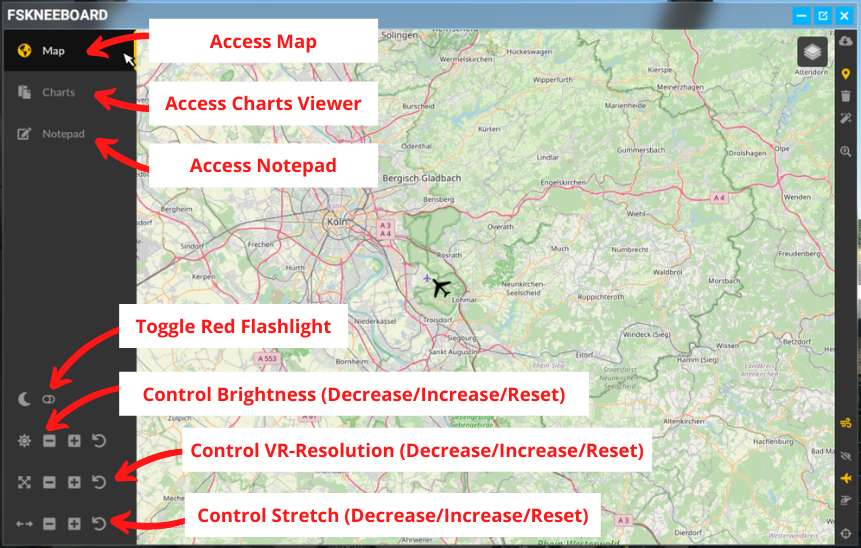 Another issue that VR pilots often encounter is the sheer brightness of panels and instruments, especially when flying at night. This is where FSKneeboard's brightness control and "red flashlight mode" come in handy. See it yourself: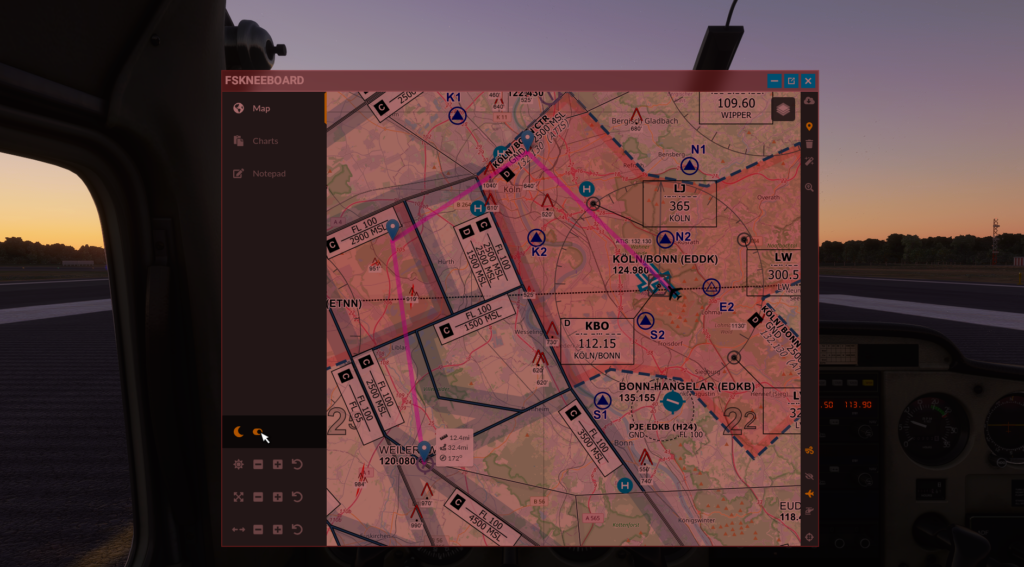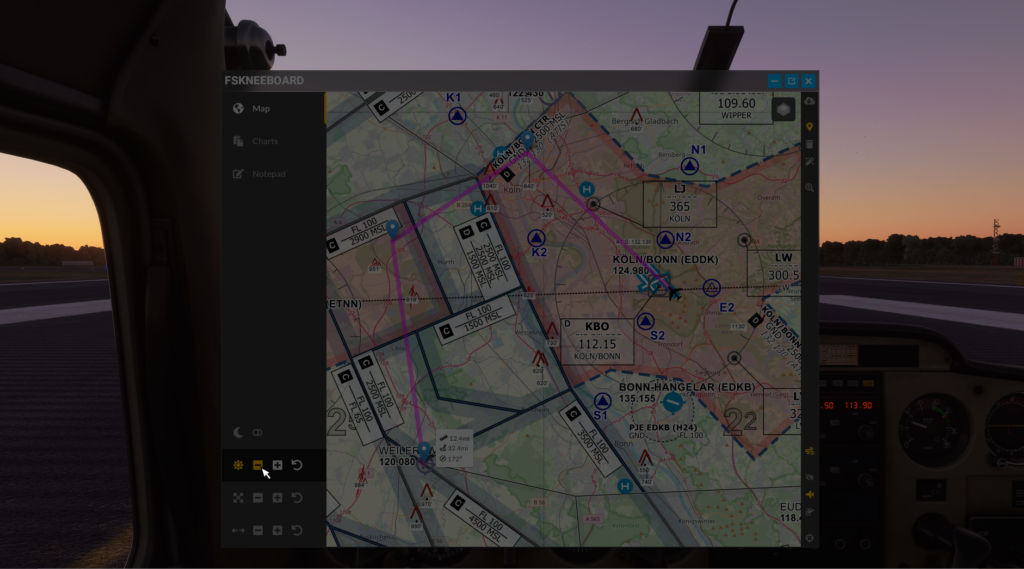 Features in Comparison
Free
PRO
Highly detailed maps for VFR flying
✅
Yes
✅
Yes
Map resolution and UI optimized for VR (and FULLY configurable)
✅
Yes
✅
Yes
"Moving Map" (i.e. map follows your airplane position in real time)
✅
Yes
✅
Yes
Hide airplane for full "paper map navigation" experience
✅
Yes
✅
Yes
Teleport to any position on the planet with a click of a button
✅
Yes
✅
Yes
Night mode (Maps)
✅
Yes
✅
Yes
Configurable Hotkey
✅
Yes
✅
Yes
Waypoints
❌
No
✅
Yes
Load Flight Simulator Flightplan
❌
No
✅
Yes
Locate ANY address or POI around the world and add it as a waypoint to your flightplan
❌
No
✅
Yes
Track data (like total distance, per-waypoint-distance and course to next waypoint etc.)
❌
No
✅
Yes
Charts Viewer for approach charts, checklists, notes etc.
❌
No
✅
Yes
Notepad for taking notes in-VR without peeking under your headset
❌
No
✅
Yes
Notetaking with your physical iPad or Android tablet and instant sync into your VR cockpit
❌
No
✅
Yes
Configurable Autosave function to recover your flights, for example after a system crash
❌
No
✅
Yes
YOU actively support the ongoing development of FSKneeboard, bringing Flight Simming in VR to the next level 🙂
😎
Sure! Thanks for giving the mod a shot 🙂 Spread the word!
💚
YEAH! You rock!!!
TRY FREE
BUY NOW