Hey Pilots!
Just stopping by real quick to let y'all know that I have just released a new version of FSKneeboard v1.6 a.k.a.
The Notepad Update (+ Cross-Session Persistence)
🥳🥳🥳 – Many of you requested a typing feature for the notepad: Here you are! Besides the "well-known" scribble mode you can now use either an embedded, virtual onscreen keyboard or even your physical keyboard to take notes while in VR (Though the physical keyboard part is still a bit experimental, as hotkeys aren't intercepted, yet. Hence typing the letter 'G', for example, might accidentally toggle your gear lever. So be warned 🙂 )
Plus, you can now take up to 5 individual notes and cycle through them! You can even use your real, physical tablet to take notes with your fingers or a stylus and have your scribbles instanly synced over into your VR cokpit!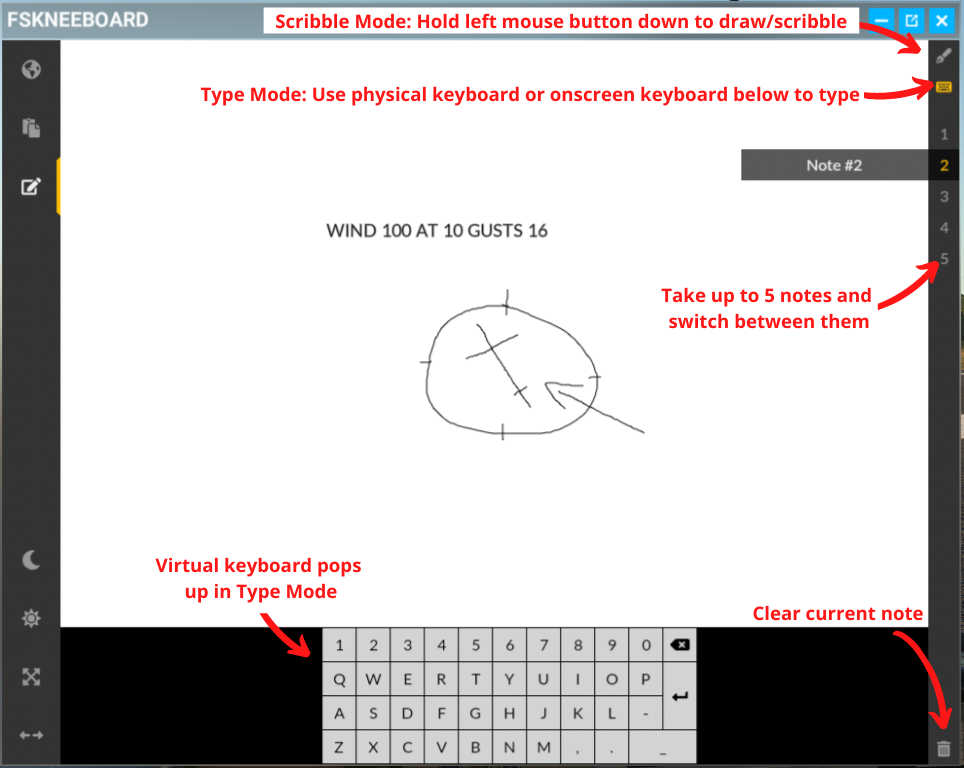 Other than that, FSKneeboard now saves notes, waypoints and your brightness and zoom configuration locally on your machine! That way, you do not have to reconfigure everything for every flight. You can even set waypoints in 2D now, then switch over to VR and everything will still be there 🙂 And, of course, your notes now will stay there until you delete them! Even across multiple flights!
As always, let me know what you think!
And if you haven't yet, give it a shot over at https://fskneeboard.com or download the FREE trial version.
Cheers – and fly safe!
Chris
CHANGELOG
Here's the detailed changelog!
EXPERIMENTAL:
support for note-taking with physical keyboards (*)
MAJOR:
complete overhaul of the notepad functionality (*)
added a new Type Mode to the notepad for typing notes with either a virtual onscreen keyboard or a physical keyboard (*)
added the capability to take multiple notes (*)
added persistence to notes, flightplans and waypoints, the active chart etc.: they are now saved on the local server and will be available across sessions (*)
added persistence to configuration parameters such as the resolution scale and stretch etc.: They will now be saved on the local server and be available across sessions, so that they don't have to be reconfigured for every flight
added support for external devices (tablets, laptops, and local browser on second screen)
added support for notes taken via a tablet to be instantly synced to the FSKneeboard panel inside your VR cockpit
MINOR:
added map-zoom buttons to the UI to better support VR controllers
added a confirmation dialog to the delete note button to prevent trashing notes by accident
added a logging mechanism that can create log files for better tech support and better debugging capabilities
fixed a bug that could make notes and waypoints disappear when the window was resized
fixed a bug that caused distances to be shown in miles, not nautical miles
minor bug fixes